ENTCO References

It is always nice when a client tells you how pleased they were with your services.

It is even nicer when they tell others how pleased they were with your services!

West Point Reunion 2012 -
Boys & Girls Clubs of Snohomish County

QFC - Kroger Foods

General Motors Isuzu

KMD - Denmark

" The response from our customers was amazing. ENTCO was always a day ahead in making sure nothing went wrong. I have never planned a program where nothing goes wrong... this was the first time, and we have only ENTCO to thank for that."

Helle Reinhardt
Senior Sales Manager
Study Tour Coordinator


Independent Insurance Agents & Brokers of Washington

"Your strength in negotiating with hotels and other vendors has been a real plus. Thanks to ENTCO, we have secured top notch facilities and entertainment beyond what we thought our budget could support."

Susan Scott, AAI
Senior Vice President of Education
Conference Planner


Consumer Science Business Professionals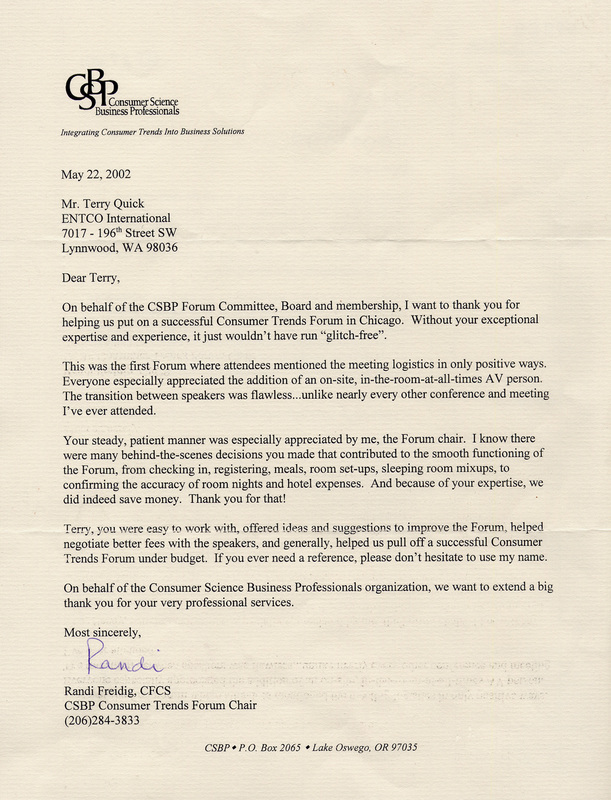 DUBAI Commerce and Tourism Promotion Board

Here are a few more you might recognize....

ACCIS
Allstate Insurance
American Heart Association
ARCO
Associated Universities
Canadian Tourism
Canadaigua Wine Company
CAR TOYS
Carver Yachts
Celebrity Cruise Lines
Century 21
Cingular Wireless
Cisco Systems
Compuserve
Cunard Cruise Lines
Davenport Hotel
Davita
Emerald Downs
Ericsson Inc. - Sweden
Farmers Insurance
Fairmont Hotels
French American International School
Hewlett Packard
Hilton Hotels
IBM
IIABW (Independent Insurance Agents & Brokers of Washington)
Kimpton Hotels




Kommunedata A/S - Denmark
Microsoft
Miller Brewing Co.
Million Air
National CC Hispanic Council
Noevir - Japan & USA
Nordstrom
Point Defiance Zoo
Remlinger Farms
Royal Caribbean Cruises
Seattle Mariners
Sheraton Hotels
Siemens Industry, Inc.
Space Needle
Starbucks
Toyota Logistic Services
Tulalip Resort
TV Guide
University of Washington
US Navy
US Wireless
WA Academy of Family Physicians
WA State Dental Association
WA State Pharmacy Association
Windermere Real Estate
Wireless Advocates
Yorkston Oil